Chanukah Events at Har-El and Outside the Synagogue Walls – 5779 (2018)
Many Thanks to Our Members Who Contributed to the Success of the Events
Lighting the First Candle with the Zmora Preschool – Sunday, December 2:
Rabbi Ada lit the first candle at Chanukah party of the Zmora Preschool, located at our congregation.  Participating in the party were the preschool's children and their parents.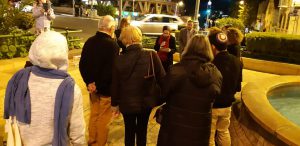 Lighting of the Third Candle with the Jerusalem Reform Congregations at Paris Square, Jerusalem, Tuesday December 4:
Lighting of the third candle of Chanukah with the participation of Rabbi Ada together with her rabbinic colleagues, members of Har-El and members of other Jerusalem Reform congregations.
Please click here to read Rabbi Ada's words at the ceremony.
Please click here for additional photos.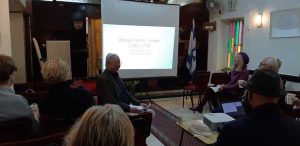 Lecture by Har-El Member, Prof. Jehoash Hirshberg, Saturday Morning, Dec. 8:
On Saturday morning, Shabbat Chanukah, December 8, in the framework of our "Tarbudat" Saturday morning lecture series, Har-El member, musicologist Prof. Jehoash Hirshberg spoke about: "The Oratorio 'Judas Maccabaeus' by Handel – the English Interpretation of Jewish Heroism."
Many thanks to Professor Hirshberg for his fascinating lecture!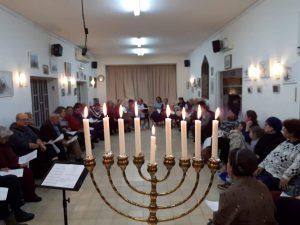 Lighting the Eighth Candle/Social Action Program – Sunday, December 9:
In the framework of Har-El's social action programs, together with the "Kehila Tomechet" organization, the Lev Ha'ir Community Center, and "Keren B'chavod" of the Reform Movement, we welcomed here at Kehilat Har-El elderly residents of the city center and Nachlaot neighborhoods to light the eighth candle of Chanukah, led by Rabbi Ada and Cantor Evan.
Please click here to read the thank you letter by Sharona Yekutiel, director of "Keren B'chavod" (in Hebrew)
Please click here for pictures from the event.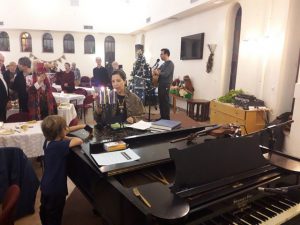 Interfaith Program at the Baptist Church, Sunday December 9:
As every year, a joint Chanukah/Christmas party was hosted by our neighbors at the Baptist Church, with the participation of Rabbi Ada and Cantor Evan.
Please click here to read Rabbi Ada's introduction to the candle lighting (in English)