Megilah Reading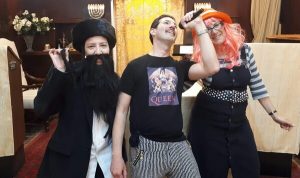 Purim at Har-El – the Megillah Reading Returns to the Synagogue, Thursday, March 17:
On the eve of Shushan Purim, Thursday, March 17 at 6 PM, we will gather together at for an evening service and then the reading of the Book of Esther in the synagogue!
Please come in costume, but it's important to remember that due to COVID, there still an obligation to wear protective masks in closed spaces.
The megilah reading will also be livestreamed to Har-El's YouTube channel using the following link: https://www.youtube.com/c/KehilatHarEl/live
as well as to our congregation's Facebook page.
(pictured: Rabbi Ada, Cantor Evan, and Har-El administrator Shany at the megilah reading, pre-COVID).