Festive Independence Day Service & Picninc
09/05/2019 @ 10:30

-

13:30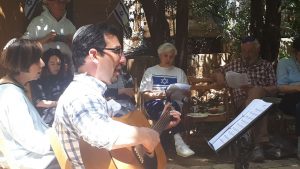 Come join us to celebrate Israel's 71st Independence Day here at Har-El on Thursday morning, May 9.
At 10:30 AM – Festive morning service led by Rabbi Ada and Cantor Evan, accompanied by pianist Anastasia Sobolev.
Following the service, we will have a picnic in our garden, including communal singing led by Cantor Evan (in the photo – last year's celebration).
For the picnic: Har-El will provide pitot, fries (chips) and kebabs/hot dogs*.  Those who would like to participate in the picnic are asked to bring 25 NIS in cash to cover the expenses, as well as a salad or something sweet (and pareve) for dessert, coordinated in advance with our administrator, Shany.  *"Vegetarian shwarama" will be provided for vegetarians.
Please note: for those of you with Facebook, we would appreciate you confirming your participation through the following link (please click here) as well as sharing the event on your personal Facebook page.  You can also confirm your participation directly with Shany at 053-649-9584 or at shany.kharel@gmail.com.